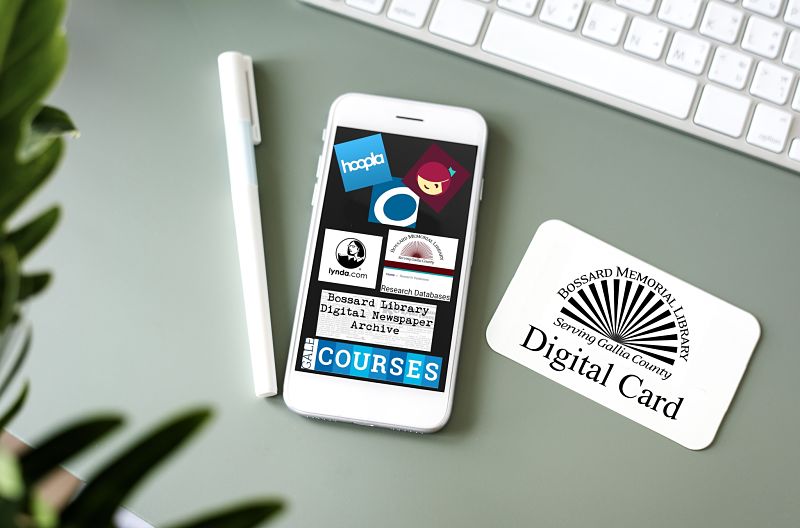 Please click here to fill out an application for a Bossard Library digital-only card.
Please note that patrons with current library cards are not eligible to apply for a digital-only library card.
You will be contacted with your digital library card number and pin number once the application is processed. You will not be able to access the digital/on-line resources until you have received this information.
Please note that due to the Governor's "Stay at Home" order, staffing levels will be extremely limited at this time. We encourage you to contact the Library via digcards@bossardlibrary.org for questions regarding your online application.
Please take advantage of the following digital/on-line services while we are closed:
Need help signing up or using any of our digital resources? Click here for "how-to" guides and links.
Ohio Digital Library (Overdrive app / Libby app)
Ebooks, Digital Audiobooks, Magazines, Streaming Videos
Ebooks, Digital Audiobooks, Streaming movies/TV shows, Music, Graphic Novels
Hundreds of highly interactive FREE online courses taught by college instructors and other experts in their field
High-quality courses and online video tutorials taught by recognized industry experts.
Gallia County Newspaper Digital Archives
Search, view, crop, and download various Gallia County newspapers (1895-2019).
Use the databases to answer homework questions and research school projects.
Research your family history with Ancestry Library Edition (through the month of May), Fold3, Heritage Quest, African American Heritage, RB Hayes Obituary Index, Sanborn Maps, and County and Regional Histories and Atlases for Ohio.
Research other countries and their food (including recipes) with Global Road Warrior and AtoZ World Food.
Repair your car, learn a new language, fix that leaky faucet, or start a new hobby with Chilton Library, Transparent Languages, Home Improvement Reference Center, and Hobbies & Crafts Reference Center.
(graphic courtesy of Freepik.com)