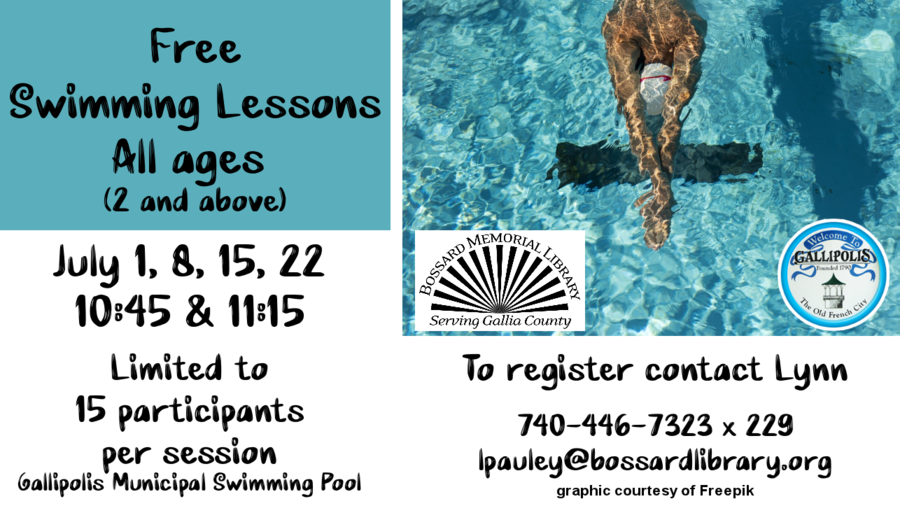 UPDATE: All spaces in both swimming classes are now full. However, please continue to call or email to register as we are keeping a call back list if it is decided to offer the lessons again at a later date.
Bossard Library, in partnership with the City of Gallipolis, is excited to offer Library patrons, ages 2 and older, with the opportunity to enroll in a four-week beginning swim class.
The class will be held at the Gallipolis Municipal Swimming Pool with instructor Teri Miller.
Two classes will be offered, each 1/2 hour in duration: One class at 10:45 AM and one class at 11:15 AM on the first four Fridays in July (July 1, July 8, July 15, July 22).
Library patrons of all ages (2 and above) are welcome to register for the classes with a limit of 15 students per class. Those who are already registered for swim classes at the Gallipolis Municipal Swimming Pool will not be eligible to register for the Library classes.
A Bossard Library card, in good standing (no overdues, lost items, fines, or expired card), is required for registration. If a card is not in good standing, please contact or visit the Library so we can review your account.
Those under the age of 4 years can be registered for swimming lessons under a parent/legal guardian card.
Those who would like to sign up for the swim lessons but do not have a library card are encouraged to register for a card. Patrons without cards will be given three days after registering for the swim lessons to visit the library and register for a card; after three days, their name will be removed from the swimming lessons registration list. Click here to view what is required to receive a library card.
All who register for the swimming lessons are required to read and sign an Informed Consent and Liability Waiver Release before participating in the program. Patrons will have three days after registering to visit the Library and read and sign the form. After three days, their name will be removed from the swimming lessons registration list.
Participants must furnish their own towel and, if desired, swimming goggles (not a swim mask). Participants must also provide their own transportation to and from the pool.
For minor children (under the age of 18) a parent and/or legal guardian must remain on the pool premises at all times during the lesson. Parents and/or legal guardians will not be permitted in the pool during this time.
As a courtesy to all those who would like to take the classes, PLEASE be willing to commit to all 4 weeks of lessons before registering for the classes. Emergencies will be taken into consideration.
To register, please contact Lynn at 740.446.7323 extension 229 or lpauley@bossardlibrary.org.
The following information will be needed to register:
First and last name; if a minor, also the first and last name of the parent/legal guardian
Age
Which class (10:45 AM or 11:15 AM)
Phone number and/or e-mail address
Library card number, for those with cards
Registrations will be taken in the order of date and time received. A waitlist will be created in case any openings become available.
At this time, no other swim classes are scheduled to be offered by the Library. However, we will keep waitlist patrons' names and contact information on file if it is decided to offer the lessons again at a later date.