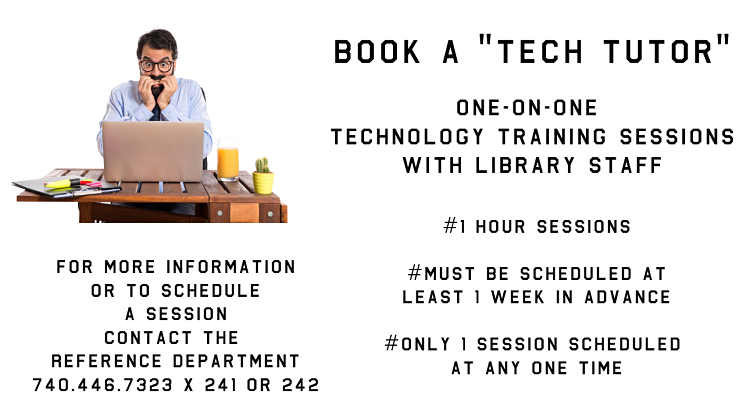 Need help getting started with your new device? Want to get started with eBooks and the Library's online services? Need some one-on-one help with Microsoft Word or e-mail? Then you need Bossard Library's Tech Tutors!
Book your session and a member of the Library staff will sit down with you and help you figure out your technology needs. During your reserved time, your Tech Tutor can help you learn or improve the digital skills you need to complete the following tasks:
Basic use of computers.
Using the keyboard and mouse.
Understanding and using Windows.
Basic word processing.
Basic assistance setting up and using an e-mail account.
Searching the Internet.
Basic use of Microsoft Office products (Word, Excel, Publisher, and Powerpoint).
Basic assistance with social media sites such as Facebook, Pinterest, Twitter, Instagram, etc.
Utilizing your Apple, Android or Kindle device.
Using the Library's catalog, including how to access your online Library account to renew items and place holds.
Accessing and using the Library's online resources such as Ancestry Library Edition, Auto Repair Reference Center, Gallia County Newspaper Digital Archives, Gale Courses, and many more.
Downloading eBooks and digital audiobooks from the Ohio Digital Library (this includes using the Overdrive app or Libby app).
Using the Hoopla app to access, eBooks, digital audiobooks, movies, music, comics and graphic novels.
During your session, your Tech Tutor will answer questions to the best of his or her ability but will not do work for you.
These sessions are intended for educational purposes only. As such, Tech Tutors cannot and will not:
Assist with entering personal, confidential information into any computer application. For purposes of the Tech Tutor program, personal, confidential information includes, but is not limited to: Social Security number, Driver's License number, bank account number, medical information, credit/debit card numbers, and tax information.
Provide help or advice dealing with personal or commercial income taxes, health insurance, credit reports, medical issues, legal issues, or other personal business.
Assist in the use of eCommerce sites such as Amazon, eBay, etc.
Recover passwords.
Remove viruses or malware.
Run software updates.
Diagnose hardware or software errors.
Repair software, hardware, or computers.
Install hardware.
Help with programming or advanced applications such as Quickbooks, Photoshop, or Autocad.
Suggest or endorse items for purchase, either physical or digital.
We appreciate your understanding.
There is a chance our Tech Tutors will not have the knowledge about a certain topic or device to adequately help you. We reserve the right to determine if your technology needs can be met by our tutors.
When you arrive for your session, please make sure that:
You have all relevant passwords to access the accounts you need help with.
You have a few ideas for what you would like your e-mail, login, and/or password/passwords to be if you are setting up a new account/accounts.
You have your device with you if you need help with it. Make sure that it is fully charged.
You have your library card with you and know your 4-digit pin number, if you will be accessing or needing help with the Library's catalog, online resources, the Ohio Digital Library or Hoopla. If you do not have a pin number or do not remember what it is, please visit the Library ahead of your session so that you can receive a pin number or have it reset. If you do not have a library card, please visit the Library ahead of your session to obtain one. Requirements to obtain a card can be viewed here.
Since we will be working with your device, please note that prior to your session, you will need to read and sign our Tech Tutor agreement.
Tech Tutor sessions are limited to one (1) hour and you may only have one (1) session scheduled at any one time. Sessions must be scheduled at least one (1) week in advance. Sessions are subject to Library staff availability. Tutors are assigned based on expertise and availability. Specific staff members cannot be requested.
To make an appointment or for more information, contact the Reference Department in person or by calling 740.446.7323 extension 241 or 242.