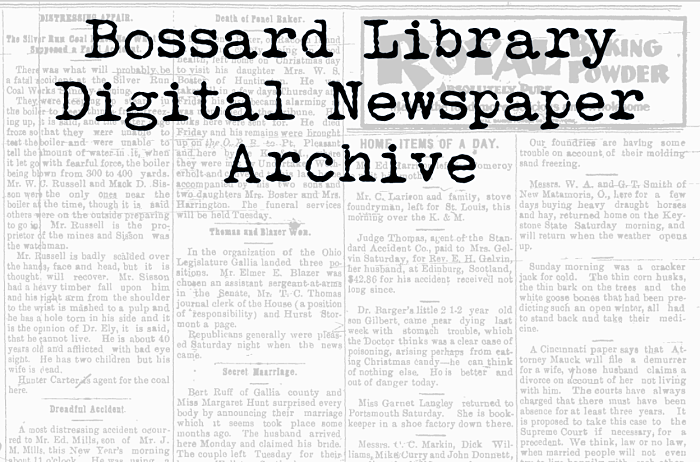 Bossard Library is excited to announce that a large portion of our microfilmed newspaper collection has been converted to a digital format and is now available for viewing from our website.
The Digital Newspaper Archives portal will allow patrons to view, search, crop, and download each page of the newspaper.
Newspapers available for viewing include: Gallipolis Daily Tribune (1895 through selected dates in 2017), Times Sentinel (1966 through selected dates in 2017), Gallia Times (1946-1966), Gallipolis Tribune (1901-1902), Daily Tribune (1907-1928), and Saturday Times Sentinel (2002-2003). Please note that not all issues are available for all years. 
Digitization of this collection is a great asset for historians, researchers, and genealogists searching for local information about Gallipolis and Gallia County. Prior to this, searching the newspapers required a trip to the Library to search and view the microfilmed newspaper collection. 
Researchers can take advantage of this new and exciting technology but are also reminded that they can still access the microfilmed copies of the newspapers at the Library. In addition to the newspapers listed above, the Library maintains a microfilmed collection that includes the Gallipolis Journal (1825-1918), Gallipolis Bulletin (1868-1918), and the Gallia Times (1913-1946).
For access to the Archives, please click HERE.
To celebrate the launching of the Archives, the Library is encouraging patrons to participate in a contest utilizing this new service.
To participate in the Digital Archives Scavenger Hunt, visit our website on January 21 to view a short list of questions. These questions can only be answered by searching through the digitized newspapers. Check back on January 21 for contest requirements and a photo of the prize to be awarded.
Bossard Library would like to thank our community members whose support enables the Library to provide these Digital Archives, funded through the Library's Technology Fund. We would also like to express appreciation to the publisher of the Gallipolis Daily Tribune for granting permission for the digitization and indexing of the Tribune.