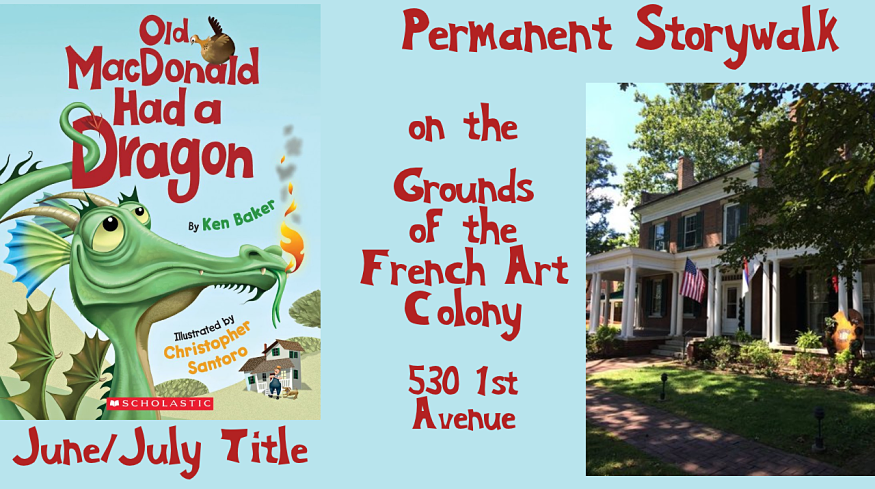 The Library's new StoryWalk title is now on display at the French Art Colony.
Stop by, enjoy the gardens and grounds, and read Old MacDonald Had a Dragon by Ken Baker.
Old MacDonald had a farm, E-I-E-I-O! And on that farm he had a......dragon?? The animals aren't happy that there's a dragon on the farm. But Old MacDonald likes his dragon....until it starts swallowing up the animals!

Can Old MacDonald save his farm before it is too late? Find out in this silly adaptation of the popular song.
If you would like more information about Ken Baker, please visit his website.
Listen to Old MacDonald Had a Dragon at The Story Chair with Cris (YouTube).
Make sure to stop by the Library and register for our Summer Reading Program, "Imagine Your Story". Children ages 2-7, Tweens ages 8-12, and Teens ages 13-19 are encouraged to read stories and win a prize.
Our next StoryWalk will be available the beginning of August.
StoryWalk is a way for children and adults to enjoy both the great outdoors and great children's books. Follow the pages of the story as you walk from frame to frame along the path. StoryWalk promotes literacy, physical activity, and parent/caregiver involvement.
The StoryWalk Project was created by Anne Ferguson of Montpelier, VT and developed in collaboration with the Kellogg Hubbard Library. StoryWalk is a registered service mark owned by Ms. Ferguson.