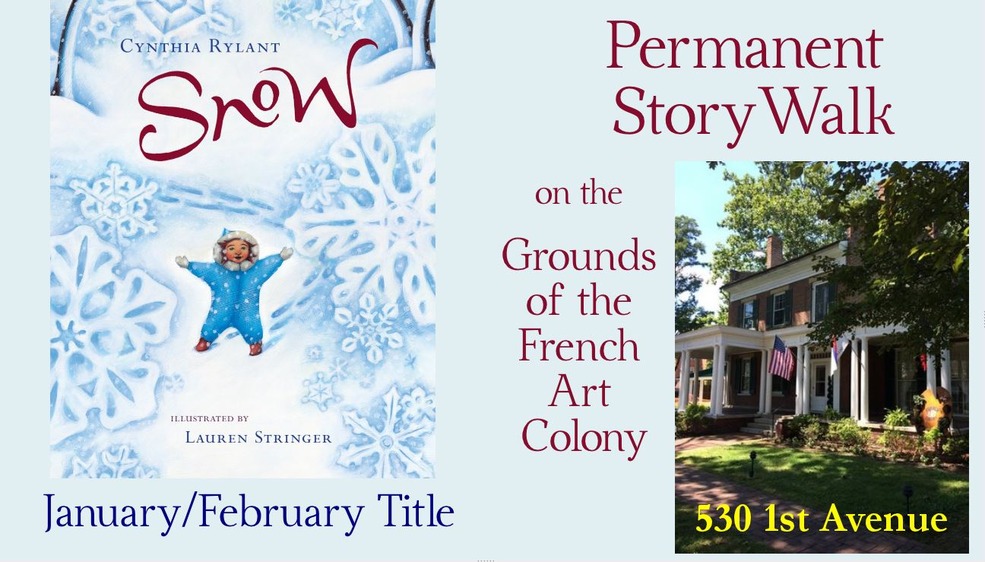 The Library's new StoryWalk title is now on display at the French Art Colony.
Our title for January/February is Snow written by Cynthia Rylant and illustrated by Lauren Stringer.
A lyrical book that takes a look at all the different kinds of snow and how it makes us feel.

There is the snow that "comes softly in the night like a quiet friend" or falls so "heavy [it buries] cars up to their noses". It is the snow that helps us notice "the delicate limbs of trees" and "the light falling from a lamppost". It brings the delight of rolling down a hill, making snow angels and returning how to enjoy a warm drink.

A cozy book for a snowy day, or for a day you're wishing for snow!
To learn more about author Cynthia Rylant, please visit this website.
To learn more about illustrator Lauren Stringer, please visit her website.
Listen to a read-aloud of Snow (YouTube).
Our next StoryWalk will be available the beginning of March.
StoryWalk is a way for children and adults to enjoy both the great outdoors and great children's books. Follow the pages of the story as you walk from frame to frame along the path. StoryWalk promotes literacy, physical activity, and parent/caregiver involvement.
The StoryWalk Project was created by Anne Ferguson of Montpelier, VT and developed in collaboration with the Kellogg Hubbard Library. StoryWalk is a registered service mark owned by Ms. Ferguson.