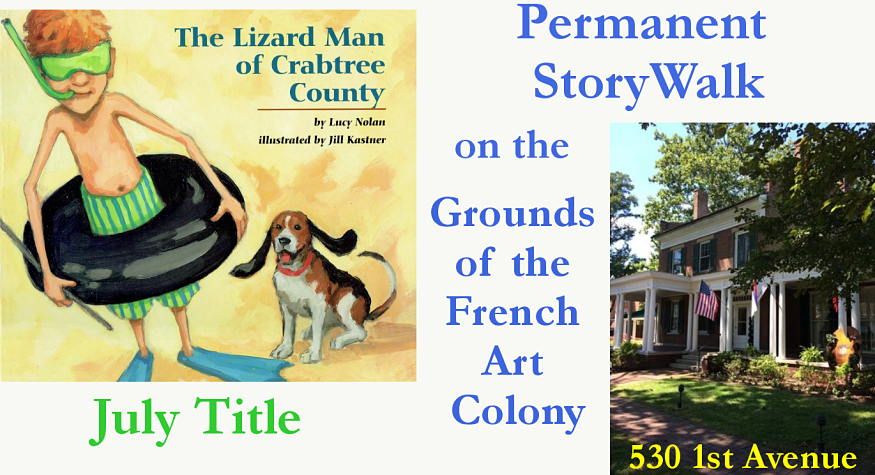 The Library's new StoryWalk title is now on display at the French Art Colony.
Stop by, enjoy the gardens and grounds, and read The Lizard Man of Crabtree County written by Lucy A. Nolan and illustrated by Jill Kastner.
Poor James Arthur is bored to tears. Nothing exciting ever happens in Crabtree County.

At least until James Arthur ties branches to himself pretending to be a shrub, gets his underpants full of bugs and rushes down to the pond to rinse off -- where he is spotted by near-sighted Miss Bunch who thinks that a Lizard Man is on the loose!

When James Arthur gets home, his mom tells him everyone is talking about the Lizard Man poor old Miss Bunch saw -- and right in the area where James Arthur was! Just his luck that he saw nothing.

As James Arthur tries to track down the Lizard Man, more and more sightings are announced and James Arthur cannot understand why the Lizard Man always seems to be near where he is at -- but James Arthur keeps missing him by just minutes!

Join James Arthur as he hunts for the Lizard Man of Crabtree County.
A special thank you to author Lucy Nolan who donated copies of this out-of-print title so that our patrons could enjoy this story on their walk around the French Art Colony grounds.
If you would like more information about Lucy A. Nolan, please visit her website.
For more information on illustrator Jill Kastner, please visit her website.
Our next StoryWalk will be available the beginning of August.
StoryWalk is a way for children and adults to enjoy both the great outdoors and great children's books. Follow the pages of the story as you walk from frame to frame along the path. StoryWalk promotes literacy, physical activity, and parent/caregiver involvement.
The StoryWalk Project was created by Anne Ferguson of Montpelier, VT and developed in collaboration with the Kellogg Hubbard Library. StoryWalk is a registered service mark owned by Ms. Ferguson.